Adult Day Care
Meet David!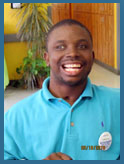 David is a happy young man who is no longer isolated by his disability. What caused this change? Catholic Charities' Adult Day Care. "This center allows me to be around a group of people who love and take care of me. I am their 'baby' and the elderly people spoil me! I also like the food."
Catholic Charities of the Archdiocese of Miami, Inc. provides a safe, comfortable, and stimulating atmosphere for disabled adults and seniors who may be experiencing: Dementia, Alzheimer's, Parkinson's, Diabetes, Stroke, Depression, Anxiety, Grief, Loneliness, or need medical supervision. Our accredited Adult Day Care Centers are staffed by licensed social workers, certified nursing professionals, and activity coordinators who provide daily supervised activities, exercise, and medical observation.
Your loved one can look forward to:
Nutritious breakfast, lunch, and snacks
Field trips to local restaurants and museums
Pet Therapy
Art & Music Therapy
Memory Brain Games
Chair Exercises
Educational workshops on safety in the home, fall prevention, drug interactions, etc.
Skilled nursing, personal care, basic health screenings
Counseling and referrals
Why Choose Catholic Charities' Adult Day Care Centers?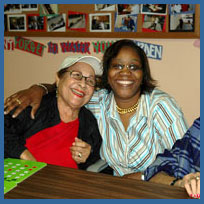 Catholic Charities' Adult Day Care Centers bring peace of mind to caregivers who need to work, or take a break! Plus, our services are often less expensive than professional in-home care. We are committed to helping your loved ones maintain their independence.
For your convenience, your personal therapists or physicians may provide therapy services on our premises during one of the participant's regular attendance days at no additional charge.
Call us today if you need personal and compassionate care!
Adult Day Care Locations
Hours Monday – Friday 7:30am – 5:00pm
Please include your phone number when contacting us by email so we may respond with a telephone call if necessary.
Wilton Manors Adult Day Care Center
1503 NE 26th Street
Wilton Manors, FL 33305
954-630-9501
browardelderly@ccadm.org


Central West Adult Day Care Center
6915 Stirling Road
Davie, FL 33324
954-583-6446
centralwest@ccadm.org


Centro Oeste Hispano
6915 Stirling Road
Davie, FL
33324 954-581-9170
centrooeste@ccadm.org


Our Clients
We provide services for men and women 19 years of age and older.
Payment Information
Private Pay
Amerigroup
Broward Homebound (CCDA)
Channeling
CITRUS
Community Care for the Elderly (CCE)
Medicaid Waiver
Older Americans Act Title IIIB and IIIE
Project Independence
United Way
VISTAS
Our Adult Day Care staff will help you determine your eligibility and apply for funding from any of the above sources.
Strategic Partners
---