Expansion of South Dade Child Care Center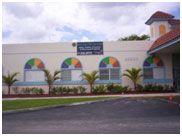 Long waiting lists and a critical shortage of affordable child care were a fact of life for low-income families in Homestead, Naranja, and Leisure City. Things improved dramatically when South Dade Child Care Center received a grant from the Ocean Reef Foundation.
The addition of four new handicap-accessible classrooms, a large resource room, and a children's library have enriched the learning environment and increased the capacity of the Center. Today 24 infants and toddlers, 238 preschool children, and 15 children,who attend after-school care, come to the center each day.
South Dade Child Care Center provides comprehensive services to children and their families. On-site case managers help parents to access community resources so their families can thrive.
Every child deserves a first class education, especially those whose families cannot afford it.